Observe and Record
To say that I have gone inward since my mother's passing would be the understatement of the century. Okay. Maybe of just the year. But me sitting in my studio, in my pajamas that I have probably been wearing for at-least three days, drinking my third pot of coffee (yes, pot,) partaking a little too much in certain vices, and drawing random objects and constructing prose that only makes sense to myself... Yep. That's where I've been.
Yeah, it's kind of sad. But I can't say I feel bad about it. Needed to happen. And lastnight, I think I may have finally reached the point of readiness to emerge from that cocoon.
Here's what I'm thinking is going to be my next path...
A Year and a Day
It's taken me quite some time to become comfortable in discussing the root of my artistic drive. It was not born out of some fabulous appreciation for life and/or my desire to share my personal glee with the world. Nope. I first discovered art as part of prescribed therapy while I was institutionalized as an adolescent. No lie. Not quite as pretty as the former story, eh? 
Not as pretty, but I assure you that it is beautiful. It was art that pulled me away from a very dark place; It was art the uncovered previously unknown bliss; It was art that gave me a voice when my mind tried to keep it silent. 
It is from that experience that the idea for this journey was born. While I am super excited to share with you a few step-by-step projects, my primary objective is to help you acquire the skills you need to develop your own creative voice as an artist. 
I've read a lot of art related books. A lot. I've learned soldering, various weaves, all about metals and tools. I have learned about painting techniques and the lives of the masters. I'd be lost without these books, no doubt! But what I have not come across a lot of in all my reading is about how to develop creativity.  
There could be a reason for that. I once had an instructor say to me, "You can teach technique, but it is almost impossible to teach creativity." 
I've always liked a good challenge! 
Want to know how to have notebook upon notebook filled to overflowing with ideas for new work? 
Want to know something is going to work-out before you've wasted gobs of material? 
Want to know what colors are going to work together?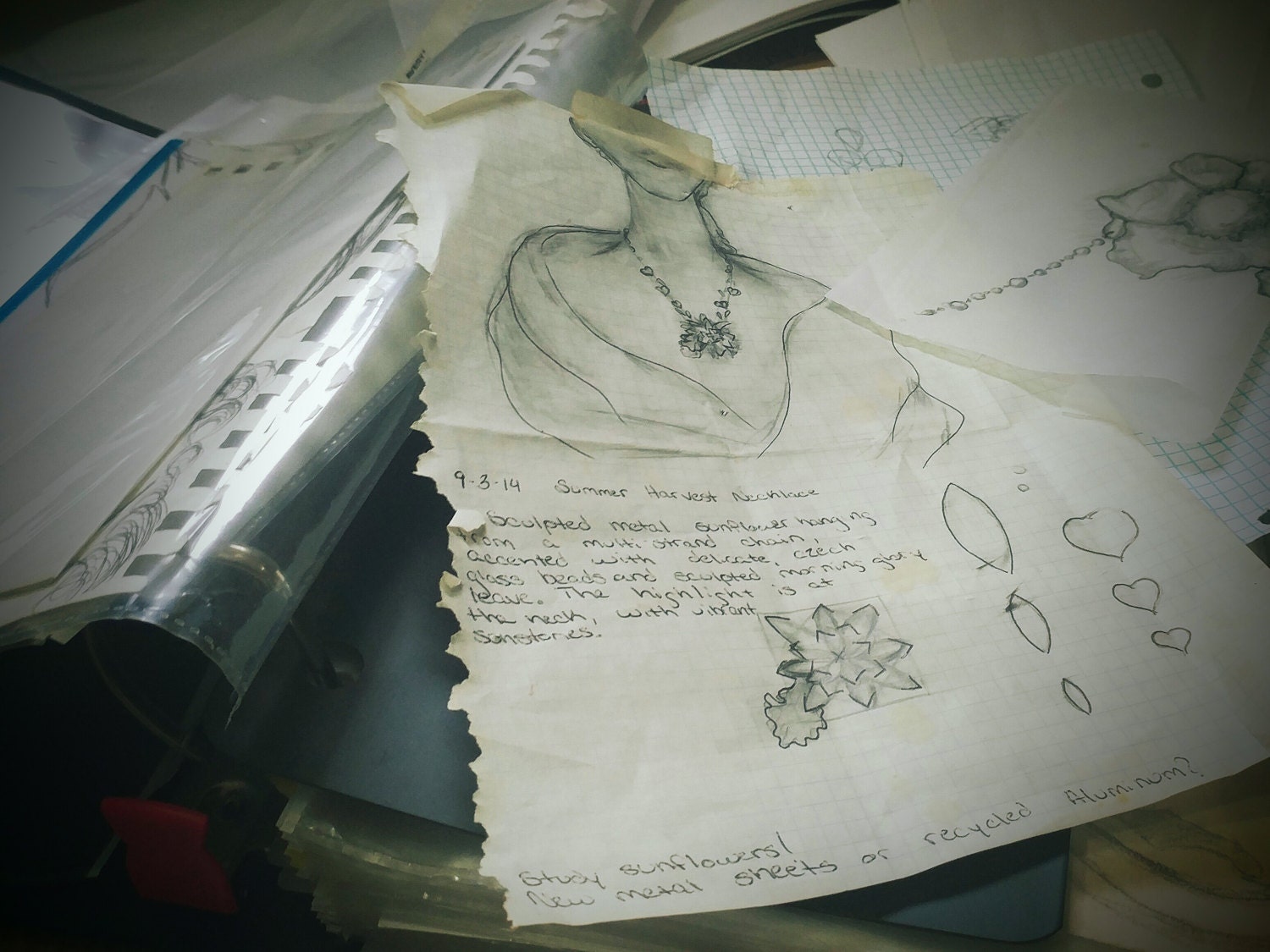 I'm your girl! 
No. I am not Van Gogh. But I am an artist. Trained as a graphic designer, a painter by nature and a jewelry designer by trade, I recognize that there are aspects of design and creative living that remain across all mediums. You learn these things? The possibilities are endless! 
How am I going to share all of this wonderful knowledge with you, you ask? I'm going to take you on the same journey I've been on. Sort of. 
In most Wiccan paths it is required that an initiate to that path study it for a year and one day. This is not only to affirm that a particular path is right for you, but it is also a very long ritual in which the initiate is made hyper-aware of their existence and how it plays into the overall plan of the universe itself. For those ready to experience it, it is truly magical. 
For me, it was so magical that I have taken it upon myself to repeat that very long ritual every year since the first. This year, I want you to participate in that very long ritual with me. For one year and one day, I ask that you commit to an open-mind and keep an open-heart; Listen to my stories and follow the actions I put forth for you. Trust that I will ask nothing of you in this period that you are not perfectly capable of doing.  
Through this act, I hope that I might be able to aid you in your creative life and you will be able to flourish as the artist you were meant to be. :-)
January 1, 2017
Beginning on January 1st I will be posting a monthly as part of this project. Within each post I will write about the purpose behind, application towards, and the lessons that should be gleaned each month.
I am going to do my very best to keep each post secular, but please know that one of my core beliefs is that art and spirituality are inseperable things; One does not exist without the other. If you do not currently have a spiritual belief system, you will be asked to develop one in order to move forward. I will do my best in each lesson in helping you to do so.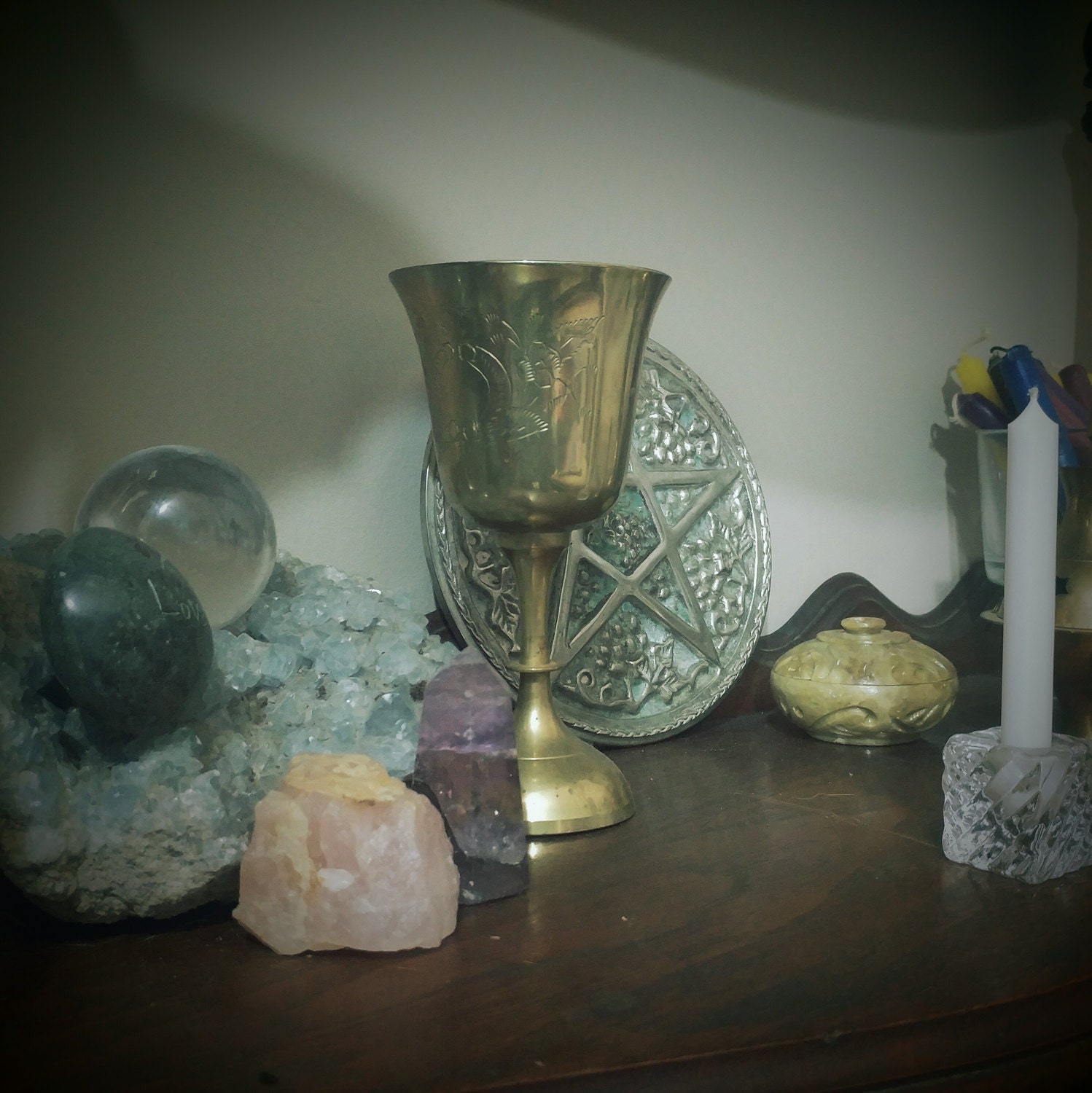 Also, because my goal is to help you develop your creative voice, do not expect that I will be focusing on any particular medium. If you came here to specifically learn wire wrapping, this might not be your thing. But, if you came here ready to play, ready to paint, color, construct, destruct and explore? Welcome!
Late to the party? You can start your year and a day at any point in the cycle! However, I reccomend you start with the current month and then complete all 13 lessons. I definitely do not reccoment trying to speed through the process. Take a full month with each lesson!
Finally, it is imperative that everyone who participates is willing to share some of their experiences. It is always true that we can learn the most from those going through the same experience. I am truly hoping that the next year and a day is an experience that has a real impact on your creative journey. :-)
I'm excited, guys! Who's with me???
Blessed be,
Kate